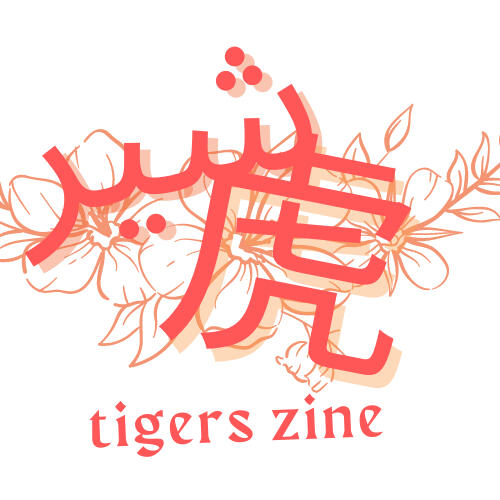 Tigers Zine
a literary journal for asians and pacific islanders
we are open for our SUMMER '22 issue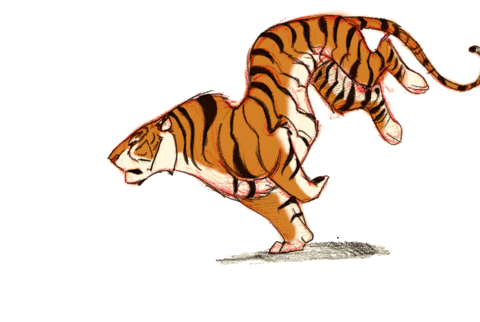 Contact
If you have any queries, please email us at [email protected]
ABOUT
a warm home for the writing that burns, roars and is aflame with emotion.
Tigers Zine is a literary journal for API (Asian and Pacific Islanders) creatives and/or APIs who identify with the term diaspora.We aim to share artwork, poetry, prose and more from a marginalised audience for a marginalised audience to celebrate our work. We are interested in works that intersect beauty with darkness; works that bind diaspora with heritage; works that thrums in the heart and is unique.But we also accept work that is about the ordinary and the eccentric and the weird and the erotica. Our lit journal just aims to share your work as an API creative.(Please note that we exist on the political left and some of our work will reflect that.)(Any work that promotes bigotry or is discriminating of any kind will immediately be taken down and reported.)(Any person who is discovered or reported to be appropriating other cultures or pretending to be an Asian or Pacific Islander will immediately be banned from submitting to us in the future and will be reported to other journals. Any work they have accepted with us will also be taken down. We take all complaints like these incredibly seriously.)STAFFIndigo Carter
Editor-in-ChiefIndigo Carter (they/he) is a multimedia creative whose work aims to cross the haunting with the beautiful. Their work has appeared in Violet, Indigo, Blue, Etc, celestite poetry and Moon Cola Zine.
SUBMISSION GUIDELINES
We are open to Asian & Pacific Islander creatives only.
---
SUMMER 2022 ISSUE
Deadline: July 30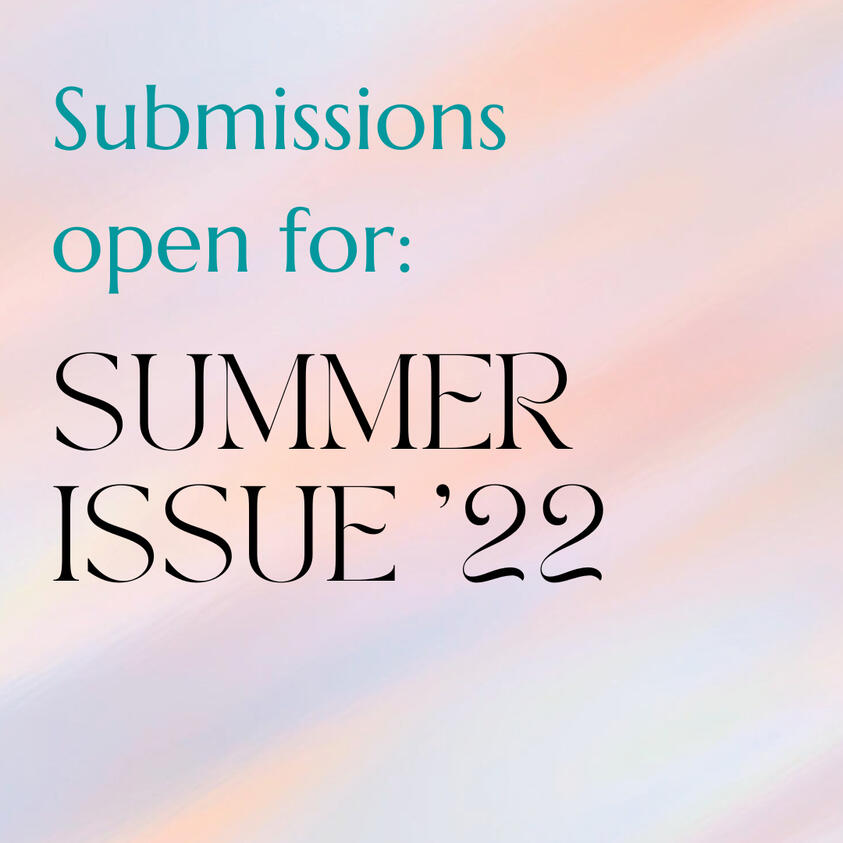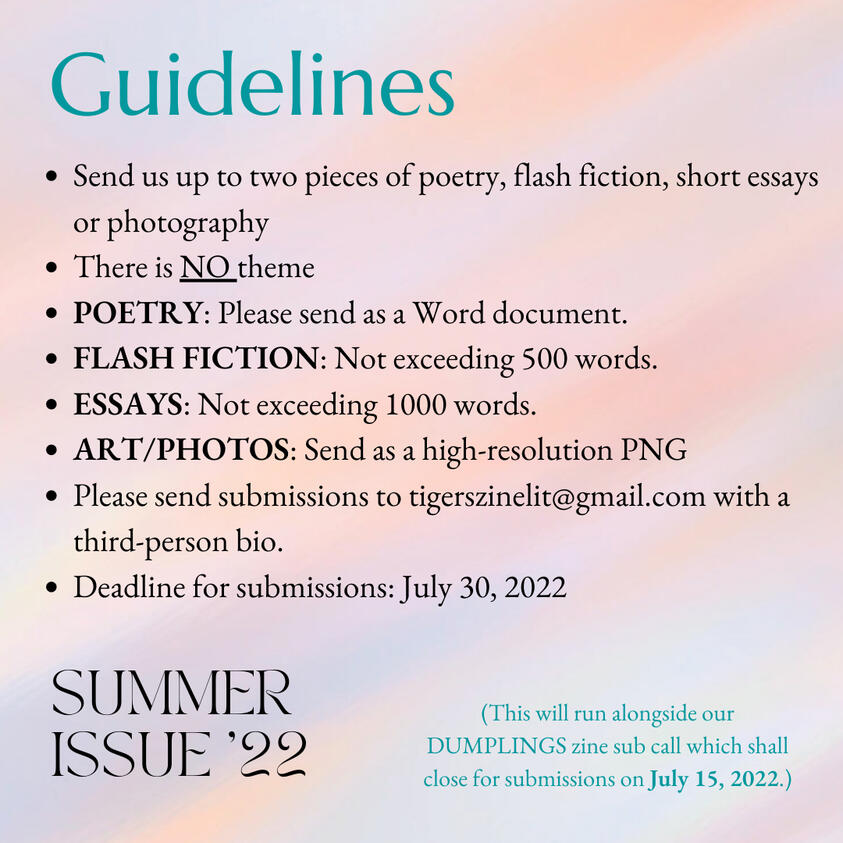 - Send us up to two pieces of poetry, flash fiction, short essays or photography
- There is NO theme
- POETRY: Please send as a Word document.
- FLASH FICTION: Not exceeding 500 words.
- ESSAYS: Not exceeding 1000 words.
- ART/PHOTOS: Send as a high-resolution PNGPlease send submissions to [email protected] with a third-person bio.Deadline for submissions: July 30, 2022
---
Submissions now closed for ZINE 1: DUMPLINGS.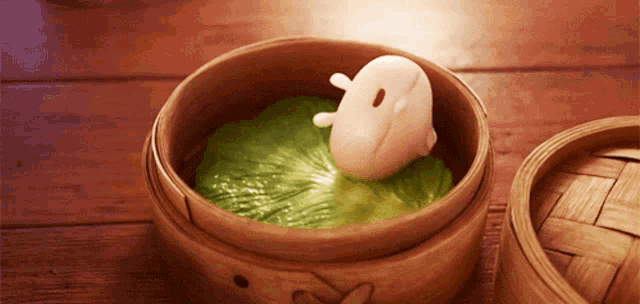 ---
Pieces in any language are acceptable as long as a translation is provided.
---
As we may be accepting some (N)SFW pieces, we request that all submitters add content warnings to their work so that younger readers can choose not to read them.
---
Simultaneous submissions are accepted. Please just notify us when your piece(s) are accepted elsewhere & we'll celebrate the achievement with you!
---
Written work should be sent as a .docx or a Google Docs file onlyArt and photography should be sent as a high-resolution .png image.
---
We request first electronic rights and nonexclusive archival rights to publish your work, but rights will revert to you after publication.
---
Please send us a bio with any social media handles we should promote (if you wish) alongside your submission.
What counts as API?
Our literary journal is open to those who are from, have descent or identify with diaspora from the following countries:
Western Asia
Armenia
Azerbaijan
Bahrain
Cyprus
Georgia
Iran
Iraq
Israel
Jordan
Kuwait
Lebanon
Oman
Qatar
Saudi Arabia
Palestine
Syria
Turkey
United Arab Emirates
YemenCentral AsiaAfghanistan
Kazakhstan
Kyrgyzstan
Tajikistan
Turkmenistan
UzbekistanEastern AsiaChina
Hong Kong
Macao
Japan
North Korea
South Korea
Mongolia
TaiwanSouth AsiaBangladesh
Bhutan
India
Maldives
Nepal
Pakistan
Sri LankaSoutheast AsiaBrunei
Cambodia
Indonesia
Laos
Malaysia
Myanmar
Philippines
Singapore
Thailand
Timor-Leste
VietnamAnd those from any Pacific Island